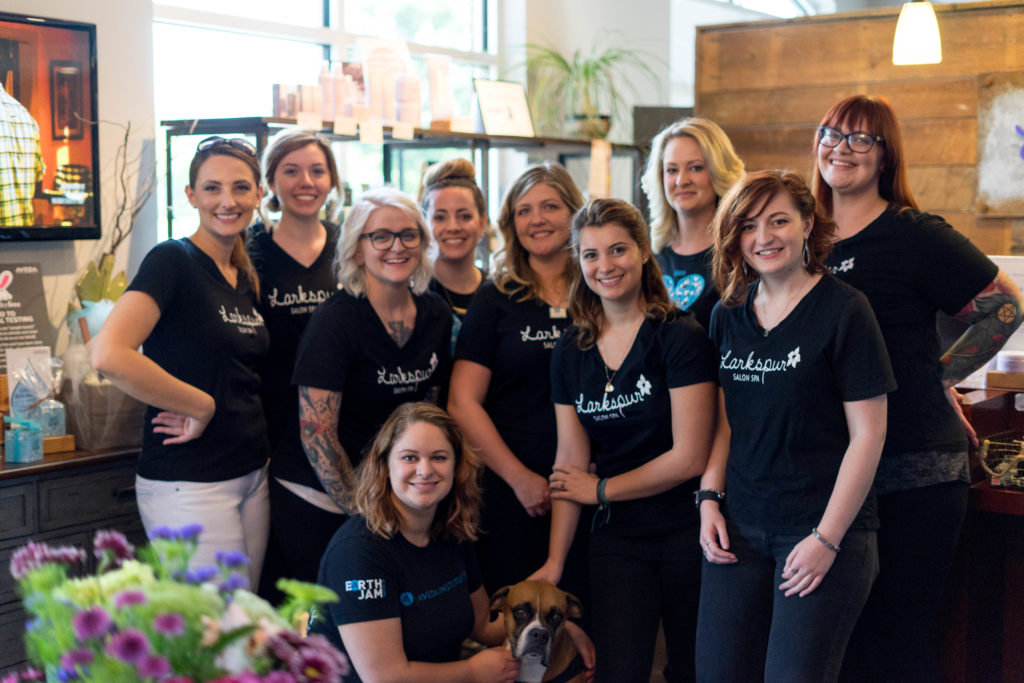 ---
Megan, Owner
"I love to transform one's inner beauty and confidence into an outward reflection of perfection!"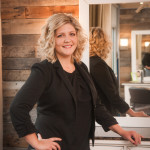 Shortly after receiving her cosmetology license, Megan joined Von Kekel Salon in Cary in 2002. She attended extensive training with Aveda. Such training has led her to New York, Washington DC, AVEDA's headquarters in Minneapolis, MN and London. Megan believes in staying updated with the latest styles and fashion while maintaining respect for classic, timeless looks. She enjoys creating color and cutting equally, and her attention to detail is evidenced in all of her work. Megan believes that listening to her guests is the most important tool in achieving a collaborative desired goal, as well as helping to build lasting friendships.
It has been a lifelong dream of Megan's to become the creator of her own destiny. That dream has now come to fruition with Larkspur Salon Spa.
---
Penny, Emotional Support Dog
Penny met Megan in 2013 and they became life long companions. Penny enjoys going to work every day at the salon and loving on our guests. Besides hanging out at the salon, Penny's favorite thing is receive the occasional treat while she's at work. Her hobbies include traveling around Raleigh and surrounding areas  with her mom and new baby brother, and napping in the sun on her days off.
---
Siobhan, Licensed Esthetician and Nail Technician
"My favorite thing to do is eyebrow shaping. I feel like a perfectly shaped brow can really frame someone's face and draw attention to their eyes."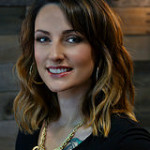 Siobhan has been practicing esthetics in a variety of settings since she received her esthetics license in 2006 at the Oregon Institute of Cosmetology. She  has worked in full service salons, cosmetic sales, and as an esthetics instructor .  From an early age, Siobhan loved the artistry and creativity behind cosmetics and was fascinated by the array of skin care products.
Siobhan has added performing nail services to her skill set and attended Troutman's College of Manicuring in Raleigh in 2014. She is eager to use her artistic ability and knowledge of  the latest trends and fashion in the nail industry to perform a variety of services.
Her warm friendly personality helps to put her clients at ease, adds to the overall feeling of relaxation, and pampering in her treatment room.  Pressure point and therapeutic massage of the neck, shoulders, face, and scalp that is tailored to each client's specific needs completes the experience. Because she enjoys providing the highest quality of skin care while creating a relaxing spa experience for her clients, she is very excited to be part of an Aveda Concept salon and spa.
Whether helping to repair or rejuvenate a client's skin with a customized facial, providing just the right eyebrow shaping or other waxing services, or applying perfect special occasion makeup, Siobhan is committed to helping people feel better inside and out. Siobhan also believes in the importance of educating her clients about the best ways to care for their skin, and will help assess all aspects of a client's skin care regimen to ensure optimal results.  Her goal is to help her clients feel rejuvenated and confident every day.
---
Joelle, Massage Therapist  
Joelle joins Larkspur after many years in the business. She graduated from the Onondaga School of Therapeutic Massage in Syracuse, NY in 2001. After graduation, she worked at an Alternative Healing Center and then 2 Day Spas until she and her husband decided to head south in 2005. After moving to North Carolina, Joelle gained invaluable experience and continued improving her massage skills at an OB-GYN practice and a Chiropractic office in Raleigh.
Joelle loves to help guests who are looking for pain relief and improved range of motion, as well as those who just want a relaxing stress relieving massage.  When she's not hard at work, Joelle and her family enjoy all the family friendly activities that Wake Forest and Raleigh have to offer.
---
Young, Licensed Esthetician and Nail Technician
"Seeing a guest's rejuvenated skin after a facial brings me a new energy to live daily life. And beautiful, well polished nails make me smile whenever I see them."
Young came to Raleigh from South Korea in 2003 to start her career as an esthetician. Her career as a dental hygienist in South Korea helped her to learn compassion, dexterity and interpersonal skills that she transferred into her new career in esthetics.
Young's favorite part of skin care is facial massage. She believes it can help in the delay of aging and also rids the body of toxins by stimulating pressure points in the face and can be a relaxing experience. Young feels that taking care of your skin not only provides a better outside, but also supports an individual's self esteem and confidence.
---
Mandy, Stylist
"I love that what I do is a utilitarian art."
Our new Sagittarius, Mandy, hails from Southern California and is now living in Wake Forest with her husband and son. After extensive training with Vidal Sassoon and Aveda, she's been mastering her skill for 14 years! Mandy is a ball of sultry fun and a true artist. Her passion in hair comes from connecting personally with each client and creating a relationship where your cut, color and style is custom created to your life and the best most beautiful you.
---
Kiki, Stylist
"My favorite thing about being a stylist is getting to create beautiful hair color that makes my guest sparkle."
Kiki began her journey at the Aveda Institute in Chapel Hill, North Carolina. While in school, she was offered a position at a top Aveda salon in New York City. As soon as a she graduated school, Kiki moved to NYC. She spent the next four years enhancing her hair styling skills. While living in New York Kiki took numerous classes at the Aveda Advanced Academy. Kiki worked on runway teams with Aveda for multiple fashion week seasons. She eventually left the cold winters of New York to travel the world. While traveling she donated her time and skills where she could. Kiki has now returned home to North Carolina, and she makes a valuable addition to the Larkspur family.
Kiki believes in the importance of an in-depth consultation. She takes the time to find out the exact needs of her clients. She wants each of her clients to have healthy hair with styles that they can be recreated at home. She enjoys forming lasting relationships with her clients to help them feel the best about themselves.
One of Kiki's favorite things about doing hair is the consistent opportunity to grow and learn. She loves taking classes to help keep her approach on hair fresh and new. She has a true passion for color and styling.
---
Mieke, Stylist
"I love the ability to change a person's outlook on their day and themselves."
Mieke is the newest addition to the Larkspur family. Mieke and her husband with their two sons, Wyatt (4) and Lochlan (1), and their two dogs, Zion and Blue, come to us from West Michigan.
She has been working behind the chair for thirteen years. After graduating from Douglas J Aveda Institute in East Landing MI, she went through the educator program where she received the title of Technical Coach for the Grand Rapids Institute. She simultaneously taught new stylists to hone their skills while taking guests at a full service Aveda salon. Mieke enjoys the technical side of doing hair and giving guests hair that they love and can recreate at home.
---
Inna, Stylist
"My favorite thing to do is balayage. It creates a naturally placed highlighted look without the maintenance of traditional highlights."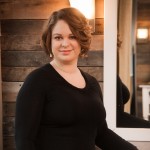 Inna, one of our Stylists at Larkspur Salon Spa, started off apprenticing under our owner, Megan Moore. Now she is building her own clientele. In May 2014 Inna completed her education at the AVEDA Institute of Chapel Hill, and received her cosmetology license shortly after graduating. Inna is passionate about bringing out every guest's inner beauty and making them comfortable and confident with their own style.
Inna is hard working and dedicated to the craft of coloring and cutting hair. She enjoys styling hair for weddings and other events to make for a perfect day. She strives for perfection with every guest and loves learning new techniques and styles. She enjoys meeting new people, getting to know each of her guests, and is always happy to see them return to her chair. Inna is a firm believer that a person with a good hairstyle and fresh color exudes confidence and can accomplish anything.
---
M, Stylist
"Beauty is about finding the right fit, the most comfortable fit. It's the acceptance of yourself and the things you love."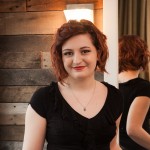 Margot, also known as M, started at Larkspur apprenticing under the owner Megan. Born in Washington state, she has lived in Raleigh since 2003. Margot graduated from the AVEDA Institute in Chapel Hill in 2014. She chose Aveda because all the products are naturally derived, and she believes in giving back to nature just as Aveda does. She loves doing fashion colors, especially reds, and cutting curly hair.
In her down time, she loves watching TV and reading with her cat Grace. When she's in the salon, Margot loves trying new techniques to take her craft to the next level!
---
Lauren, Salon Spa Coordinator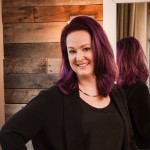 "The best part of my day is seeing all the smiles on our client's faces when they leave and knowing how happy they are."
---
Jackie, Guest Services Specialist
"I take pride in being efficient and organized. I want each guests experience to be be perfect!"
---
Elizabeth, Guest Services Specialist
"I love learning about the science of hair from all our stylists and seeing how their beautiful creations make our guests happy every day."