Come relax and let your troubles melt away with the professional touch of our experienced therapist.
---
Massage
30 Min $45 | 60 Min $75 | 90 Min $105
FOCUS
Targeted massage for a specific problem area.
REFLEXOLOGY
Reflexology is gentle manipulation or pressing on certain parts of the foot to produce an effect elsewhere in the body.
ELEMENTAL
A personalized sensory journey to enhance your massage experience.
SWEDISH
Swedish massage focuses on relaxing the body using long, kneading strokes that help soften muscle tissue, increase circulation, and lower stress hormone levels.
HOT STONE
(Additional $10)
Using smooth heated stones during massage helps melt the muscles allowing for greater relaxation and can also be used to access deeper tissues.
PREGNANCY
(Additional $10)
No one deserves to be pampered more than a mother to be. Gentle massage relieves the aches and pains that go along with the changes of pregnancy. Our hydraulic adjustable massage table ensures comfort during any stage of your pregnancy.
DEEP TISSUE
(Additional $10)
By using Swedish massage to soften the superficial layers of tissue, the massage therapist is then able to access deeper layers of muscle. Deep tissue focuses on specific areas where the body may be holding tension, knots, or congestion.
---
Spa Shower
Our spa offers a luxurious shower with a soothing rain shower head, hand held attachment with multiple settings, and body jets to relax sore muscles. The treatments requiring a shower already have the price included. However, showers can be added to any of our massage treatments. Be sure to tell our guest service specialists when scheduling your appointment to reserve the proper room. $25/15 minutes.
---
Body Treatments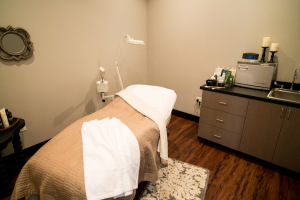 Rosemary Mint Body Wrap
75Min $90
Beautifying Body Wrap
75 Min $110
Seasonal Body Treatment
75 Min $100
---